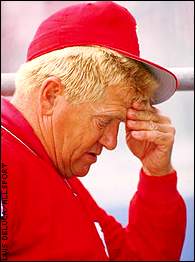 So, Whitey Herzog may or may not be as frustrated as I am that Robby Alomar and "The Dutchman" Bert Blyleven didn't make the HOF vote today. Andre Dawson did, and YES, he deserves it.

But John Heyman just made a good point on (last night's) this morning's MLB Hot Stove. Andre Dawson is soft-spoken and the other inductee, Umpire Doug Harvey is in poor health and will probably not give a speech. What does this mean for fans of baseball, within driving distance of Cooperstown, who need a reason to head down this July? Whitey Herzog. As Heyman noted "Whitey will tell any story, of any length, on any subject" (paraphrased). Sounds like it's worth the trip to me. Plus, seeing as the last year I went to induction was 2001 - ahem: Kirby Puckett, Bill Mazeroski, Dave Winfield; I am hoping for slightly less traffic this time. And yes, I will find a cozy place in the woods around Coop and set up a tent.



More on Whitey Herzog



I firmly believe that it is impossible to argue with the Veteran's Committee selections. Take a look at who decides:


Hall of Famers: Jim Bunning, Tommy Lasorda, Eddie Murray, Phil Niekro, Tony Pérez, Robin Roberts, Ryne Sandberg, Ozzie Smith, Billy Williams, Dick Williams
Executives: Jim Frey (retired), Roland Hemond, Bob Watson
Media: Tim Kurkjian, Jack O'Connell, Tom Verducci
It's copied from Wikipedia, so there are active links. Hate Wikipedia? I don't care.
Oh. Wait. Whitey Herzog.

Let's just quote him a bit:
"If you don't have outstanding relief pitching, you might as well piss on the fire and call the dogs."
"I'm not buddy-buddy with the players. If they need a buddy, let them buy a dog."
"Some people asked me if I would be interested in managing the A's. I said a definite no thank you. At night, that place is a graveyard with lights."
"The only thing bad about winning the pennant is that you have to manage the All-Star Game the next year. I'd rather go fishing for three days."
"The only way to make money as a manager is to win in one place, get fired and hired somewhere else."
"The rules are changed now, there's not any way to build a team today. It's just how much money you want to spend. You could be the world champions and somebody else makes a key acquisition or two and you're through."
"The way we have been playing, I might tell my players not to cross the picket line (umpire strike of 1979)."
"We need just two players to be a contender. Just Babe Ruth and Sandy Koufax."
"We need three kinds of pitching: left handed, right handed, and relief."
"What counts aren't the number of double plays, but the ones you should have had and missed."
"You sweat out the free agent thing in November then you make the trades in December. Then you struggle to sign the guys left in January and in February I get down to sewing all the new numbers on the uniforms."